Project Description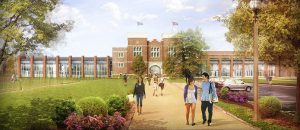 Slated to open in 2016, the Gary M. Sumers Recreation Center, will add more than 60,000 square feet to the Washington University Athletic Complex, including a Fitness Center. Additional improvements, totaling 50,000 square feet, will include renovations to Francis Gymnasium and the adjacent Athletic Complex.
Before work began on the project, Coast 2 Coast's As-Built site survey services were commissioned by Washington University in St. Louis  to gather and submit complete, detailed information of the existing conditions. The project was particularly interesting because both the 1903 Francis Gymnasium and the Athletic complex which was added in the 1980's were to be included in the project. True documentation was crucial in determining if the building facade could be saved.
More than 100,000 square feet of new and renovated space

Approximately 280,000 total square feet for sports and recreation

Designed to attain a minimum of silver status LEED certification
As with any building that has been previously renovated, accurately capturing the transition between old and new spaces is fundamental to success. In this case, the two structures were on different grades and Coast 2 Coast meticulously documented and connected the change in levels. Special attention was also placed on the façade and condition of the old building. The Coast 2 Coast survey team used a FARO Focus3D and Leica HDS 6000 laser scanner to produce the point cloud and a Leica TCR-407 total station for location-control and benchmark measurements throughout the site. For short distances along the walls, a LEICA Disto laser distance-meter was used. Delivery of As-built AutoCAD drawings, a 3D Point Cloud and 3D Revit Model provided the necessary intelligence to make informed decisions about the scope of the renovation.
On April 11, 2014, Washington University broke ground for the new Gary M. Sumers Recreation Center. The project was led by Architect James Kolker, assistant vice-chancellor of campus planning and director of capital projects in Facilities Planning & Management. The architecture firm Bohlin Cywinski Jackson, together with St. Louis firm Hastings+Chivetta Architects, designed the center. Their design both preserves and transforms the historic Francis Gymnasium (Francis Field was site of the first Olympic Games in the United States during the St. Louis World's Fair) while creating modern spaces that are both functional and welcoming.
• Architects: Bohlin Cywinski Jackson, Hastings + Chivetta
• Contractor: BSI Constructors